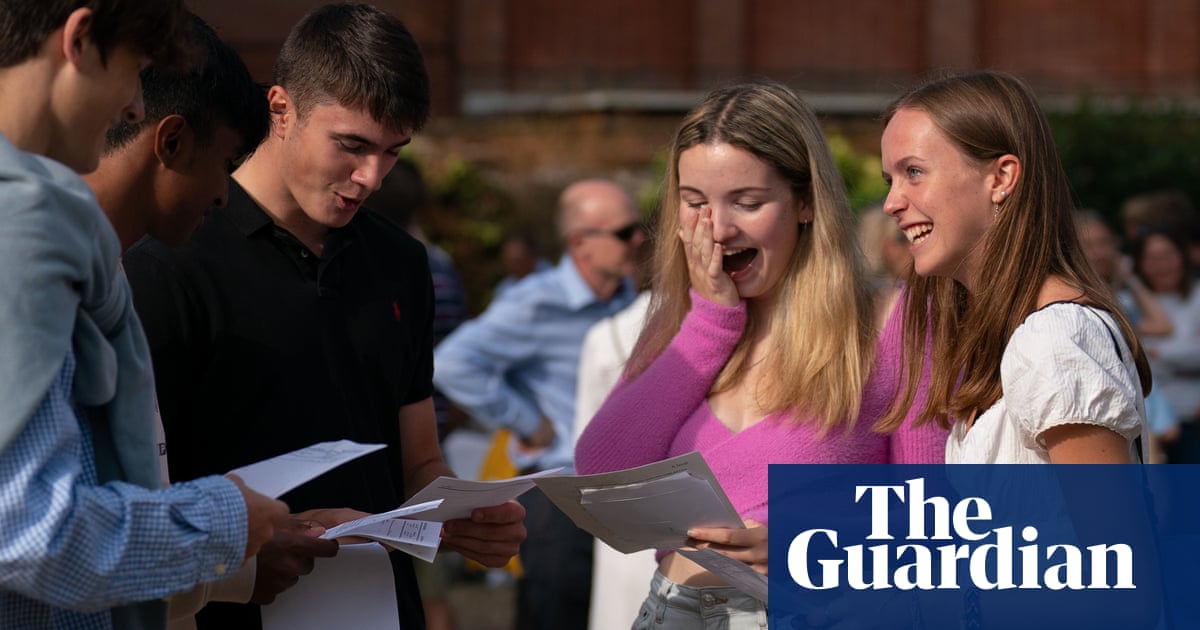 Analysis: Key statistics on drop in top grades, favourite subjects and gender differences
Key statistics about this year's results:
The proportion of candidates in England, Wales and Northern Ireland receiving top grades went down from last year with 36.4% of entries awarded an A or A*, down from 44.8% in 2021, but higher than in 2019 when it was 25.4%, the last time exams were sat.
About one in seven entries (14.6%) were awarded an A*, down from nearly one in five in 2021 (19.1%), but higher than the 2019 figure of 7.7%.
Female students continue to outperform their male counterparts, but the lead has narrowed. The proportion of girls with an A or higher was 37.4% this year, 2.2 percentage points ahead of their male counterparts, down from 4.8 percentage points last year.
Mathematics remains the most popular subject, accounting for 11.3% of all entries, though entries dropped 2.1% from 97,690 in 2021 to 95,635. Psychology is the second most popular subject with entries up 10.5% on 2021, followed by biology.
The biggest casualty of the changing trends in subject choice is English literature in which there was a 9.4% drop in entries on last year, taking it out of the Top 10 most popular subjects.
Languages remain unpopular. Spanish is still the most popular modern foreign language despite a slight decline in entries of 0.6% from 9,139 to 9,088. French entries went down by 5.4% from 8,383 to 7,929 while German entries bucked the trend with a 3.5% increase from a very low base to 2,803.
The drop in grades was expected after the exams regulator laid out plans to gradually rein in grade inflation, taking results back to a middle point between 2021 and pre-pandemic results in 2019, when results were last taken.
There is huge regional variation in results. London and the south-east of England have the highest proportion of students with top grades, with almost two in five students getting an A* or A. The north-east of England has recorded the lowest proportion of students getting a top rate grade (30.8%) and the lowest increase when compared with 2019.
Nearly 426,000 students have had university places confirmed – down 2% at the same point last year, according to the university admissions service, Ucas, but 20,360 students who applied to go to university did not get a place.
About 200,000 students received their level 3 BTec results on Thursday, with grades ranging from starred distinction to a pass. The first ever cohort of T-level students also received their results. T-levels are the government's new technical and vocational qualifications, introduced in 2020. Out of 1,000 T-level candidates, 92.2% got a pass or above and 370 – 71% of those who applied –have been placed on to a university course.
* This article was originally published here
* This article was originally published here