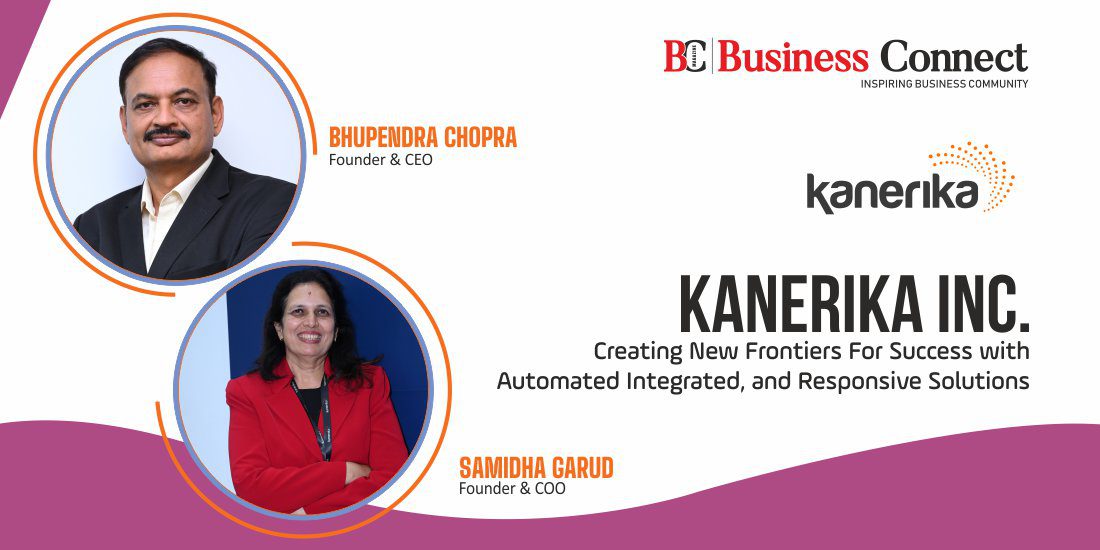 KANERIKA INC
Creating New Frontiers for Success with Automated, Integrated, and Responsive Solutions
Kanerika Inc helps global brands accelerate their response time to changing market conditions, lowering their operational costs, and equipping them with the necessary knowledge and information for wise decision-making. Kanerika was created and is led by Bhupendra Chopra, who is fittingly described as a passionate entrepreneur, with 26 years of experience holding immense knowledge and zeal for the tech industry.
Incorporated in the year 2015, the innovative venture is spearheaded towards its mission of crafting efficient enterprises across the pillars of integration, analytics, and automation. Kanerika crafts innovative strategies harnessing the power of proprietary digital consulting frameworks and composable solution architectures.
Due to the team's combined experience with clients and time spent on R&D, they were able to identify the critical gaps and introduce their products to bridge those gaps:
1. FLIP: A Data Transformation Tool
2. Phi: A Data Analytics & Visualization Tool
"At Kanerika we not only believe but also practice that technology shouldn't complicate but simplify operations. This is the foundation of both Flip and Phi that aligns with our mantra of crafting efficient enterprises."-Bhupendra Chopra
THE TALE OF INCEPTION –
Kanerika was established in 2015 with the purpose of creating a global consulting company to solve data integration, analytics, and automation problems. They stoutly believe it is critical to sail through transitions effortlessly, remain exceedingly responsive, and improve business performance.
In addition to extending its domain expertise from the travel, logistics, and healthcare industries to the manufacturing, retail, BFSI, hi-tech, and telecom sectors, Kanerika strengthened its implementation skills for significant companies in the areas of data analytics, integration, and automation. Kanerika uses the approach of using niche technology partners like Alteryx, Informatica, Microsoft, Snowflake, Incorta, FiveTran, Automation Anywhere and UiPath.
FACTORS THAT MAKE KANERIKA STANDS OUT IN THE INDUSTRY?
• Kanerika is the Best in the Game. They have an established authority over everything they offer.
• Kanerika is associated with technology partners like Microsoft, Automation Anywhere, UiPath, Informatica, and Snowflake, to name a few, who are the market leaders with established credentials.
• Kanerika focuses on continuous learning and helps businesses seize the feasibility of emerging technologies and innovation strategies to achieve better business outcomes.
• Vouched for by customers, partners, and employees. The company boasts a 70% return clientele that speaks volumes about the services offered.
DEALING WITH THE COVID-19 CRISIS
With an 82% increase in revenue and 75% new clients added, 2019 and the first quarter of 2020 did turn out to be terrific for Kanerika. Sadly, the progress was held down by the Covid wave and lockdown that began in March 2020.
The sales cycles took almost 9 or 10 months longer than usual, but the team chose to remain in place, and that risk paid off when the markets opened up again at the beginning of 2021. A noteworthy achievement for Kanerika in 2021 was the company's 81% increase in revenue and 73% increase in new clients.
Although there is a market slowdown with an impending recession and significant layoffs, 2022 has also been an excellent year for the company; they are pumped up for a successful 2023 with laser focus on creating unique products and solutions.
VISIONARY'S TAKE ON THE LATEST TECHNOLOGICAL ADVANCEMENTS
Constant learning, working on cutting-edge technologies, and innovation are some of our core beliefs. We have referenceable clients in North America, Asia Pacific, and the Middle East that have aided in our expansion and provided us with successful implementation case studies to share in the markets for process automation, data integration, and data analytics.
We have been successful in securing several prominent clients in the insurance, manufacturing, logistics, supply chain, and retail industries, and our core area is expanding by more than 60% annually. We recently signed agreements for process automation services with two investment fund companies and one of the largest global trading services organizations since the operational costs of all human-involved services are increasing post-covid.
CORPORATE ETHOS FOR CLIENTS
The domain expertise is in Travel & Logistics, Manufacturing, Retail, BFSI, Hi-tech, Healthcare, and Telecom industries. Their focus is on data; hence they do not focus vertically but stay widely domain-agnostic. They most definitely have built expertise in the current business verticals they serve, specifically logistics, transportation, insurance, and Hi-Tech.
They provide services to medium and large businesses in the USA, Australia, the Middle East, and Asia-Pacific. Some of the clients include Trax Technologies, Alteryx, and Kroger. As their clients have amply demonstrated in their testimonials, Kanerika has effectively established its credibility by enhancing efficiency, decreasing operational costs, and shortening delivery cycles by providing a structure to the processes.
KANERIKA'S SECRET FORMULA OF SUCCESS – EMPLOYEE MOTIVATION
Kanerika is a community of highly qualified individuals that promotes consistent learning and never undermines the value of gaining experiences. With Kanerika Labs, management encourages the employees to dedicate some of their time in researching, understanding the changing landscape of market and technologies, identifying the gaps and coming up with innovative ideas to bridge them.
Organizations seeking exceptional results for innovation must follow a process-driven approach to drive the same which otherwise is shrouded in mystery. 'Kaotech Day' – an innovation tournament is one such approach it's a structured multi-round competition that furthers Kanerika's vision, blended with a dash of excitement. With their enterprise learning system 'FLEX,' Kanerika 'Flexes' and how!
A huge part of Learning & Development is upskilling. As a part of employee benefits, Kanerika provides certification reimbursement for the courses undertaken by every employee. At Kanerika, they encourage a conducive environment, providing open opportunities to explore, experiment, research and innovate because in the end, it's all about growing together!
FEATHERS IN THE HAT
1. Featured as one of the Top 10 Most Recommended Data Analytics Solutions Providers 2019 by the CIO Insider Magazine
2. Featured as one of the Top 10 Most Recommended RPA Start-Ups in 2022 by CIO Insider Magazine
3. The Best Place to Work 2022 by Entrepreneur Insight Magazine
4. Kanerika's Digital Transformation 2022 Survey featured in Forbes.
ROAD AHEAD
Kanerika Inc. is certainly growing in data analytics, data integration, and process automation markets. Their focus area is growing by more than 60 per cent year-on-year, and they have been able to get some key customers in insurance, manufacturing, logistics, supply chain, and retail verticals.
Interestingly, they are also seeing rising bookings in NFT, blockchain, crypto, AI/ML and metaverse opportunities as well. Also, With focus on R&D and Kanerika Labs, the org is focused on establishing solutions and product offerings, thinking ahead and being market ready for 2024.
EXCELLENT GUIDANCE
BHUPENDRA CHOPRA – Founder & CEO
A serial technology entrepreneur, Bhupen is the Founder & CEO of Kanerika Inc. He founded Kanerika with the sole purpose of making enterprises efficient. With over 26 years of experience in the IT industry, he is deeply passionate about driving customer's success and delivering solutions that make a difference to their business performance.
He is the architect of applying innovative technologies to drive enterprise efficiency with a focus on data, analytics, and automation. Prior to Kanerika, he co-founded Applimation India which was acquired by Informatica in 2009. His leadership skills are second to none. He leads by example and inspires people to do better. He consciously instills the feeling that one can achieve more and brings out the best in his team.
SAMIDHA GARUD – Founder & COO
Samidha is central to the rapid growth of Kanerika. With over 23 years of experience in the IT Industry, Samidha leads all aspects of operations and is in-charge of driving operational efficiencies at the company with her attention to detail and ability to multitask.
With her Advanced Management Program at the Wharton School of Business, she is a proud alum of the school and leads by example, substantiating our core value of continuous learning. Her core areas of specialization include data analytics, operations, and digital marketing. Her entrepreneurial experiences have made her the go-to-person in the startup ecosystem.
WORDS OF WISDOM
Persistence is the key. As cliché as this sounds, it is the mantra to succeed. In the larger scheme of things, this is the only thing that will pay off. Having an idea, working on it and letting it go when the time calls for it will either
make it or break it for you.
Must Read:-
<p>The post KANERIKA INC first appeared on Business Connect | Best Business magazine In India.</p>
* This article was originally published here
* This article was originally published here