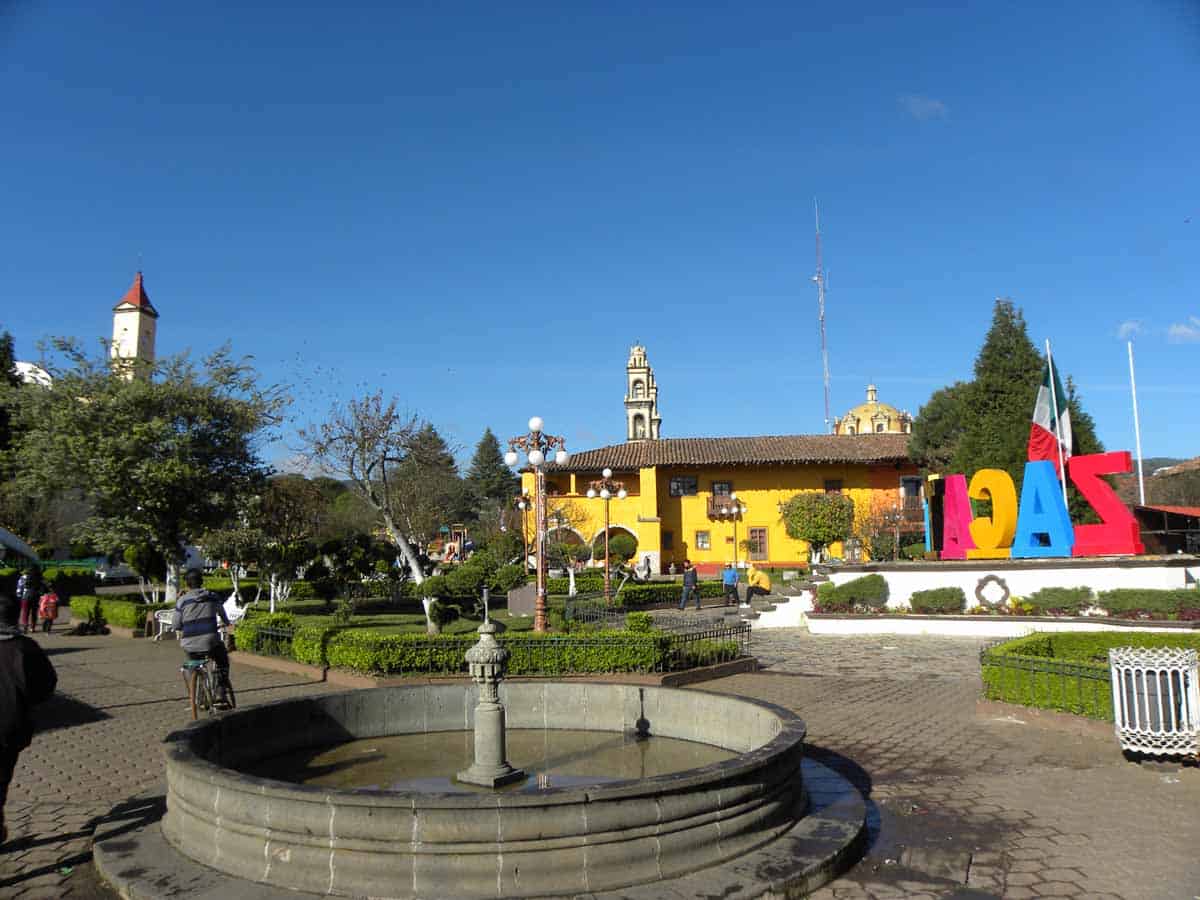 Highlights of the Pueblo Magico town of Zacatlán
It's one of the most popular of Mexico's Pueblos Magicos. So what makes Zacatlán special?
Yes, Zacatlán is a pretty town with nice churches, a colourful main square, and a popular walking street (calle José Dolores Pérez).
But what makes Zacatlán special is the geography.
The town is located in the Sierra Norte de Puebla, a mountainous region in the northern part of the state of Puebla. Within a few blocks of downtown you'll get to a lookout looking over a canyon (I'll cover that below). Mountains soar in the distance, some peaking above the clouds. Outside town you'll find forests, rivers and roaring waterfalls (more on that below as well). Amidst the rugged geography you'll find fertile valleys dedicated to agriculture – plums, pears, beans, potatoes…but mostly apples. Zacatlán is famous for apples and the town is often referred to as Zacatlán de las Manzanas ("Zacatlán of the apples"). The Feria de la Manzana, which is held in August, is the most popular festival in the region (more here).
What to see in Zacatlán
Wander around the Zócalo (main square). It's large and pretty with a huge flower clock (5 meters in diameter). You can visit the former Franciscan monastery (Templo Franciscano) which has a church and gardens. Right next to it is the Parish of Saint Peter and Saint Paul (which was closed when we were there). All around the square you'll see impressive buildings including the Palacio Municipal, a government building dating back to the late 1800's.
flower clock
Zacatlán sign in the square…and the Palacio Municipal behind
From the square, walk down calle José Dolores Pérez. You'll see markets, restaurants, and tourist shops. There's a "Café Dos Culturas" which sells coffee and has a little coffee museum. A nice place to stop. You'll see a pretty building with a clock tower – that's Centenario Clocks, the local company that made to flower clock in the main square. They have a Clock Museum (Museo de Reloj) that gets great reviews on trip advisor.
If you continue walking down the street you'll get to a cemetery – turn right. Suddenly the whole alley opens up in front of you and you get incredible views of canyons and mountains. Besides the views, there are two main highlights here: 1) the murals on the wall (Los Murales De Zacatlán) and 2) the glass viewpoint (el Mirador de Cristal de la Barranca). The Murals are beautiful and local artists have designed them to reflect the town and its culture (apples is a recurring theme). The Mirador is every tourist's favorite highlight – you'll see the tons of people that come on the weekend to have their selfie taken on the glass floor of the structure. But come during the week and you'll have the place to yourself.
Los Murales De Zacatlán
Mirador de Cristal de la Barranca
The Waterfalls
The waterfalls are about 20 minutes out of town. You'll hear about 3 waterfalls: Cascadas Saltas de Quetzalapan, Cascadas Las Brisas, Cascadas Tuliman. It's a bit confusing.
Our Airbnb host told us that Cascadas Las Brisas had the best views. He arranged for a taxi for me: for 360 pesos ($19 USD) the driver brought me there and then, 90 minutes later, came back to pick me up.
What you have to know is that all the waterfalls I've listed are right next to each other (see map above. Click to enlarge) and are basically different angles on the same waterfall. The driver dropped me off at Cascadas Saltas de Quetzalapan. When I asked the girl working the ticket office where Cascadas Las Brisas was she pointed out a structure just a little further away. So I walked there (2 minutes). There I had to get a guide (it's obligatory) who took me to the falls which were a 20-minute walk down through the forest. You see the highlights in the video below. There is no fee for the guide but it's recommended you leave a tip (I left 100 pesos).
Having know the above beforehand I would have done things differently. I would have stayed longer and in addition to Las Brisas I would have done Quetzalapan and Tuliman. As I say, they're all next to each other. The geography is beautiful, the paths make for a nice walk through the forest, and the waterfall itself is very impressive.
Visiting the waterfalls is highlight of Zacatlán.
Practical Information on Zacatlán
Getting to Zacatlán: If coming/going to Puebla ATAH has buses that do the route (with a stop in Apizaco) in 2 ½ hours.
In our case we were coming from Pachuca (we had visited the nearby Pueblo Magical town of Real del Monte). We took ADO from Pachuca to Apizaco (approx. 1 ½ hours) and from there connected on ATAH as described above (about 1 ½ hrs).
Where to stay in Zacatlán: We stayed in a great Airbnb located about 5 minutes from the main square. Very, very nice people who are incredibly helpful (and they used to live in Canada). Want to splurge on a really nice hotel? In that case you should stay at Casa San Miguel Hotel Boutique y Spa.
Where to eat in Zacatlán: We had a great lunch at El Andador near the main square. Try to sit on the balcony upstairs. If looking for an inexpensive takeaway meal, go to Jugos California on the main street. They make great sandwiches.
Related: The Best Pueblos Magicos in Mexico?
Related: A Photographic Walking Tour of San Miguel de Allende (Mexico)
Related: A roadtrip through Mexico's most beautiful towns and cities (by bus)
The post Highlights of the Pueblo Magico town of Zacatlán appeared first on The Travels of BBQboy and Spanky.
* This article was originally published here
* This article was originally published here