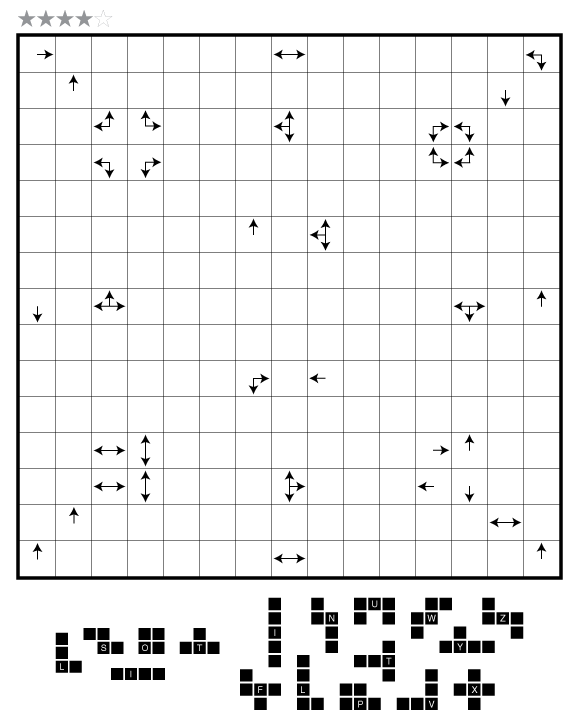 (view directly for a larger image)
or solve online (using our beta test of Penpa-Edit tools).
Theme: Unique Groups
Author/Opus: This is the 241st puzzle from our contributing puzzlemaster Prasanna Seshadri.
Rules: Place some of the given polyominoes in the grid so that no polyominoes touch, not even diagonally. Polyominoes cannot repeat in the grid; rotations and reflections of a polyomino are considered the same shape. The arrow clues indicate all the directions (up, down, left, and right) where the nearest polyominoes are located when looking from that square, ignoring the clue cell itself. Polyominoes can sit on the clue cells.
Difficulty: 4 stars
Time Standards (highlight to view): Grandmaster = 6:30, Master = 12:15, Expert = 24:30
Solution: To be posted on our next puzzle post once live.
Note: Follow this link for more Pentopia puzzles and this link for other puzzles involving Pentominoes.
————
Previous Solution: "Test Your Wits" Minesweeper (Pentomino) by John Bulten: PDF and solving video.
The post Tetro-Pentopia (Transparent) by Prasanna Seshadri appeared first on The Art of Puzzles.
* This article was originally published here
* This article was originally published here